Product Details
Bird Blocker Rubber Stopper RS-BL
Bird Blocker is designed to be installed on Power Lines. Anywhere along the span or near the cross arm to prevent birds (and some animals)  gaining access to the lines.
Rubber stoppers used on either side of the Bird blocker to fix in place on the line. Use rubber stoppers for every 10 Bird Blockers installed.
Specifications
Base material EPDM
UV stabilised
35mm x 26mm
Suits cable diameters up to approximately 30mm
Weight grams
Balmoral Engineering Item RS-BL
Click on the thumbnail below for more information. You can also download a pdf here.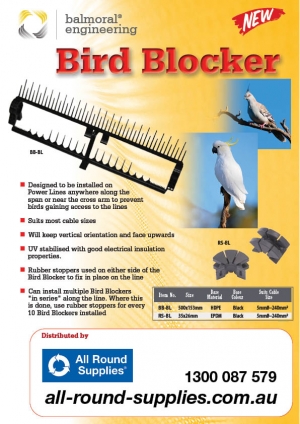 For more info about this product, please contact us.