Product Details
Dewar Electronics Neutral Supply Tester (NST) M1121
This model is for New South Wales only, as the maximum neutral to earth voltage is 10 volts. Click here for the M1120 Neutral Supply Tester for Qld, SA and Vic.
Application
Accredited meter installers use the NST when placing smart meters on domestic and commercial switchboards. The NST shows a safe or unsafe condition by measuring the voltage and impedance in relation to the connected active, neutral and reference earth.
The NST ensures that the incoming active and neutral power connections are correctly identified and safe to use before you reconnect the main power.
Features of the Neutral Supply Tester
CAT IV 600V instrument compliance.
The M1121 is a compact unit with a lightweight, heavy-duty case. Its impact resistance case has an IP54 moisture and dust ingress rating.
The M1121 is a self-powered, passive device. The power is taken directly from the connection point, therefore you don't have to worry about flat batteries or battery replacement.
The front panel has an easy to read LCD screen for measurement information and 3 LED status indicators.
An internal audible alarm acts as a secondary indicator to indicate a pass/fail at the end of the measurement cycle.
The M1121 NST carries out automatic internal self checks to ensure correct functionality of the instrument.
Items included in the box
M1121 NST
CAT IV 600V  lead set
Hanging Clip
User Manual
Matching Accessories
You can purchase the following matching accessories for the M1121 Neutral Supply Tester:
Click on the following thumbnail to see the accessories and how they connect to the M1121. You can also download a pdf here.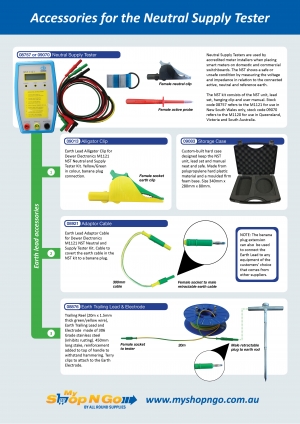 Compliance, service and repair
The manufacturer is able to issue re-compliance certificates and carry out services and repairs. Visit Dewar Electronics for more info.
For more info about this product, please contact us.