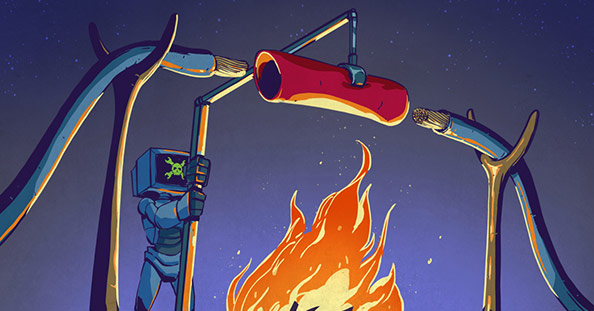 As an electrical contractor you will probably know a thing or two about heat shrink tubing.
What is it and why it is important? How does it work? And how do you install it correctly?
If you've ever wanted to find out, read on and watch our expert video.
Heat shrink tubing is used for both practical and aesthetic applications .
On a more functional note, it's an effective way to prevent water from getting into cable splices. It insulates cables and wires against extreme heat–which is particularly useful when used for aircrafts, boats and military vehicles. It also helps protect wires by creating a barrier between cables and corrosive chemicals.
For more cosmetic applications, it offers a simple way to identify cables and wires via colour coding, it can be a durable way to make labels for network patch cords, it provides a neat way to terminate ends of braided sleeving, and it generally improves the look and orderliness of custom electronics and vehicles.
Basically, anywhere that you can find wires and cables, you'll  likely find heat shrink tubing applied as well.
To  further explain the relevance of this technology and how it works, Kathy Maher, the Advanced Technical Service Director at TE Connectivity talks about the heat shrinking process from expansion, cooling, and installation/heating, as well as some considerations while installing.
Check it out in this excellent video from TE Connectivity:
Our online site carries an extensive range of heat shrink tubes and accessories similar to the ones demonstrated in the video. Follow the link to check out the full range of lined and unlined end caps, gloves and breakouts, and tubes available in a variety of colours.
Cover Image: Hackaday.com