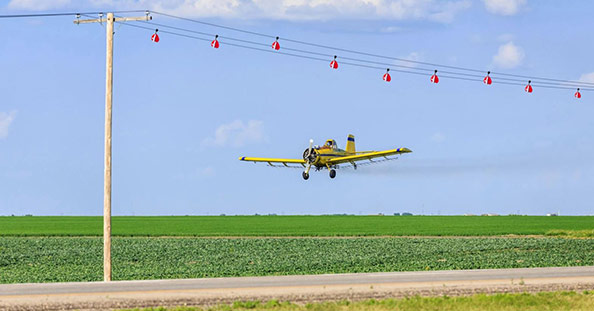 The Rotamarka power line marker:
The Aerial Agricultural Association of Australia (AAAA) recently hosted their annual trade show and awards night. This event provides a wealth of new ideas, products and information to the agricultural industry.
Balmoral Engineering were granted the Leland Snow Innovation Award for their Rotamarka aerial warning marker at the event. The Rotamarka's three-dimensional, rotating design can be seen from any angle of approach, and increases aerial perception of power lines. Such a innovative product demonstrates Balmoral Engineering's outstanding commitment to the field of aerial safety and innovation.
How the Rotamarka will make a difference to the industry:
Phil Hurst, CEO of the AAAA,  thanked Balmoral Engineering for their contribution to aviation safety in developing the Rotamarka.
"There is no doubt in our mind that the Balmoral marker will save lives due to its high visibility, its relatively low cost and its ease of fitment.
While aircraft wire-strikes are only a fraction of the total safety problem surrounding contact between all vehicles and farm implements with power infrastructure, it is a significant cost to our industry and a personal impact on pilots involved in wire-strikes.
Training and ongoing professional development play a significant role in preparing pilots to manage the risks associated with low level operations around power lines, but power line marking will definitely improve safety for the sector.
The Balmoral marker is now an integral part of the AAAA aviation safety strategy. AAAA is hopeful that more energy companies and especially rural landholders will mark more power lines as they become aware of the availability and effectiveness of the Balmoral marker."
Watch it in action:
Congratulations again to Balmoral Engineering on winning such a prestigious industry award. We look forward to working with Balmoral and our customers to improve aerial safety across the country.
Take a look at Balmoral's power line Rotamarka here.