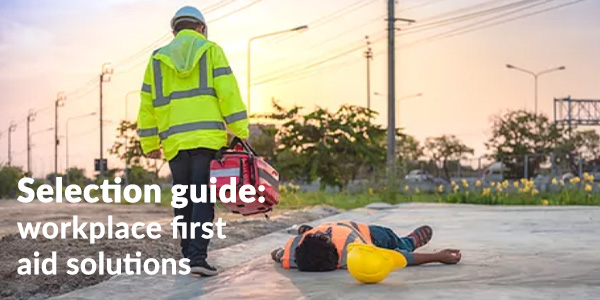 Are you someone who cares enough to invest in something that could save someone's life? Investing in workplace first aid shows your crew how much you value them. It also gives you the peace of mind that you run an organisation where everyone gets home safe.
Unfortunately, workplace accidents are a reality. No matter how safe you think you are, accidents can always happen. Investing in quality first aid means that you and your team will be prepared for anything.
As an employer, it's your responsibility to make sure appropriate first aid is available for all employees, for any potential emergencies that may arise.
We supply first aid items tailored to the electrical industry to help you go above and beyond. Set the standard and keep your crew safe.
What counts as a 'workplace'?
Most people would readily identify an office, warehouse, manufacturing facility or a construction site as a workplace. But work vehicles such as trucks, delivery vehicles and company cars also count. This is why many of our kits are lightweight, portable and ideal for keeping in your truck or van.
Quick compare guide:
Our quick compare guide gives you an overview of each first aid kit that we sell. Starting from our smallest kit, which is filled with first aid essentials and offers great value for money. And working up to our heavy-duty kits designed for specific industrial environments.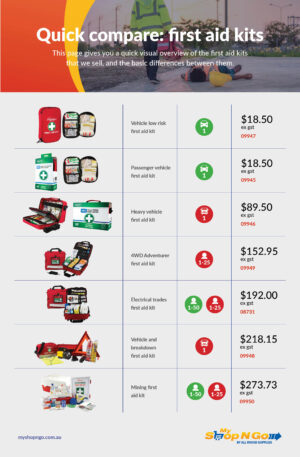 What's a 'high risk' workplace?
High risk workplaces expose workers to hazards For example, construction, warehousing, manufacturing and laboratory sites.
1 first aid kit should be provided on site for every 25 people in high risk workplaces.

What's a 'low risk' workplace?
Low risk workplaces do not expose workers to any hazards. This includes office buildings, home offices, retail stores, cars and trucks.
1 first aid kit should be provided on site for every 50 people in low risk workplaces.
Kit inclusions:
See a full comparison and breakdown of the inclusions in each of our first aid kits in the flyer below:
Have you considered a Defib?
A defibrillator is another piece of highly valuable first aid equipment to add to your workplace.
Sudden cardiac arrest can happen to anyone, anywhere, at any time. A defib can make the difference between life and death.
Why we love it:
We've chosen to supply the Heartsine 360P Samaritan defib – this is the toughest defib in the market. NSW Rail, Sydney Airport, and even the US Marines trust and use this device!
We love this device because it's fully automatic – minimally trained and untrained users can operate it with ease. Which means that ANYONE can save a life.
There is one button to turn the machine on and off. A clear voice and visual guide will coach the user through the entire process. This defib assesses the patient and analyses their heartbeat all on its own, and automatically performs shocks (if needed).

Why it's great for tradies:
It is also the smallest and lightest AED of 2020, weighing in at 1.1kg. It also has the highest level of protection against dust and water, which makes it great for outdoor environments.
Low cost:
Avoid the hassles of multiple battery and pad changes. With just one low-cost battery and pad change, this DEFIB has the lowest ongoing cost of ownership in market. The 360P defib also has an 8-year warranty.
Investing in quality first aid demonstrates your commitment to the safety of your staff and customers, differentiating you as a workplace that cares.