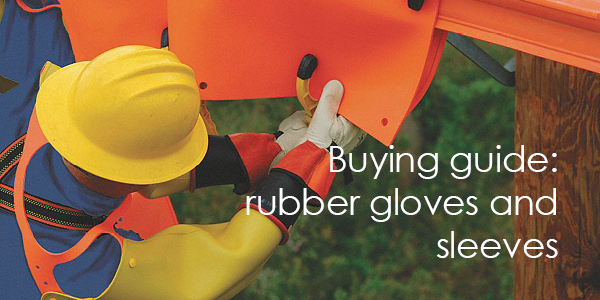 Are you interested in buying rubber electrical gloves, but not sure where to start?
We understand. We've put together a detailed buying guide to help you pinpoint exactly which glove you need, as well as a breakdown of all the different accessories.
Our insulated electrician's gloves are ideal for working with high and low voltages. Their design protects workers from shock, burns, fires and explosions.
We know that lives depend on the quality of our products, which is why our gloves are manufactured to comply with the highest possible standards and regulations.
---
Selecting a glove:
What's the difference between all of the gloves?
Insulated electrician's gloves fall into various categories, depending on the level of voltage protection they provide.
Once you have determined the maximum level of voltage you will be exposed to during your work, you can use the chart below to select the class of glove that will provide you with the protection required for your job. Each class of gloves features a permanent colour-coded label, clearly marking the maximum use voltage.
What size glove should I choose?
All of our gloves are available in sizes 8, 9, 10 and 11.
To find the size that's right for you, wrap a tape measure all the way around your hand. This circumference will give you the rough size of glove to choose, based on the table below. Personal preference for tightness and finger length will ultimately determine the size that you are most comfortable wearing. Allow an extra 12mm if you are using cotton inners.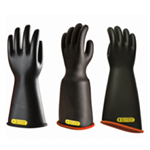 Cuff options:
Our class 0 and 00 gloves are available in a straight cuff only.
Our class 1 – 4 gloves are available in a straight cuff, as well as a bell and contour cuff to allow for extra movement and dexterity.
---
Standards:
Our rubber electrical gloves are tested following ASTM D120/IEC903 specifications, ensuring that they meet and exceed EN 60903 requirements (the standard specification for industrial rubber insulating gloves in Australia).
---
Leather protectors:
You should always wear leather protector gloves over rubber insulating gloves to prevent mechanical damage.
For each class of electrical protection, the rubber insulating glove must be a certain length longer than the protector. This 'flashover distance' provides an insulated leakage path from the leather outer to your wrist and arm.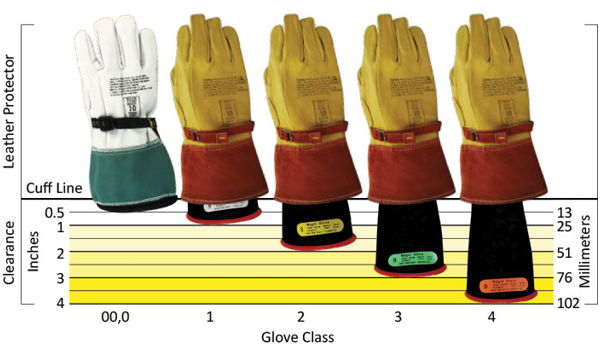 Our outer protectors feature goatskin leather and fit perfectly over all of the industry-standard rubber insulating gloves. Available in sizes 8, 9, 10 and 11, our electrical leather protectors are soft, flexible and strong.
---
Other accessories:
Sleeves:
Natural rubber sleeves extend your level of safety protection, completely preventing arm contact with energised lines.
Sleeves should cover from the top of your shoulder to inside the top of your gloves. To minimise the possibility of the sleeves pushing your gloves off your hand, size your sleeves to the shortest length possible while maintaining complete coverage to your shoulder.
You can also separately purchase an over-head harness or a pair of straps to hold the sleeves in place. The harness and straps both come with push-through sleeve buttons, however a two-piece screw-type button is also available.

Cotton Inners:
Our 100% cotton liners are worn under rubber gloves to provide comfort and warmth, and to absorb perspiration. Known as inners, liners or unders, they are reversible, one-size-fits-all.
Our cotton inners are available in white or beige.
Glove talc:
Glove talc is a cooling powder that helps to absorb sweat and moisture when wearing rubber gloves. It also protects your hands and prevents sticky gloves.
Air test tool:
Inspect and test rubber insulated gloves before each  use. Look for signs of physical damage (punctures, cuts and abrasions), chemical deterioration (swelling, softness, hardening stickiness), ozone deterioration and other irregularities.
The glove air test tool is ideal for checking gloves on a daily basis. Slide the glove in one end and roll the cuff up to trap air inside. Listen carefully for any escaping air, which will indicate a hole or puncture in the glove.
In the event of any leakage, deterioration or wear, destroy gloves immediately.
Canvas storage bags:
Store your gloves and sleeves in a dedicated bag to protect them from light, moisture and products that may cause contamination. Store gloves in a protective canvas bag, away from all sharp or pointed objects. Do not store your rubber products folded, creased, bent or in any way that would stretch or compress them.
We carry single pocket canvas glove bags as well as double-pocket glove bags in our online store.

---
For more information, take a look at the video below from Balmoral Engineering: