Product Details
Goatskin outer gloves prevent mechanical damage and deformation from occurring when worn over rubber insulating gloves.
You should wear outer gloves over the same size of rubber insulating glove. For example, size 10 outer gloves should be worn over size 10 rubber insulating gloves.
Specifications:
Made from goatskin
250mm long
Velcro strap
Kelvar thread
Available in sizes 7, 8, 9, 10 & 11
Ansell ActivArmr brand (formerly Marigold)
Clearance for Goatskin Outer Gloves:
Properly sized and shaped outer gloves will avoid damage to the rubber insulating glove. The diagram below shows the minimum distance needed between the cuff of the outer glove and the cuff of the rubber glove.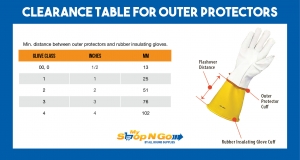 For more info about this product, please contact us.