Product Details
Class 00 insulated rubber gloves are a critical life-saving piece of PPE for all electrical workers. Our gloves are made from 100% natural rubber, and are designed to protect workers interacting with exposed energized, de-energized or re-energized electrical circuits.
Suitable for:
500V Class 00 insulated rubber gloves are suitable for utility line, cable jointers, Accredited Service Providers, Recognised Electrical Contractors (REC) and any other worker who may come in contact with electrical circuits.
Specifications
500V AC,  750V DC Maximum Voltage Use
Class 00
Length 280mm (11 inch)
Rolled Cuff
Natural latex rubber
Red in colour
Compliant with standard IEC EN60903
No expiry period on the gloves
Ansell ActivArmr (formerly Marigold)
How to Measure:
Wrap a tape measure all the way around your palm at the point shown in the diagram below. This will show the size of glove to select. Personal preference for tightness and finger length will ultimately determine the size that you are most comfortable wearing. Allow an extra half inch if cotton inners are to be used.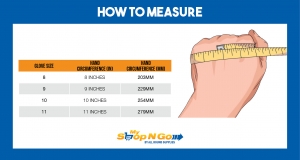 Testing & Pre-use Checks:
You should carry out a visual and inflation test on your gloves before every single use. First, look for signs of visual damage (punctures or cuts), chemical deterioration (swelling, softness, hardening, stickiness) and other irregularities. Our glove air check tool is ideal for doing an inflation test on your gloves. Simply slide the glove in one end, roll the cuff up to trap the air inside and listen for escaping air, which will indicate a hole or puncture in the glove. In the event of any leakage or deterioration, stop using and dispose of the gloves immediately.
Storage and Transport
Store your gloves away from all sources of moisture or light. Do not store near steam pipes, radiators or other sources of artificial heat or ozone. We recommend storing gloves in a protective canvas bag, which will prevent your gloves from being compressed or folded.  We have both single and double-pocket bags available.
For more info about this product, take a look at our Buying Guide or please contact us.