Product Details
M20 Galvanised Steel Eye Bolt – VARIOUS LENGTHS
M20 Galvanised steel eye bolts have a forged closed eye. Each eyebolt comes with a M20 galvanised steel hex nut.
Technical Specifications
98kN minimum failing load
Forged  to comply with AS1111.1
Material Grades to AS1442 and AS3679.1
Galvanised to AS1214
M20 hex nut to AS1112.3
Applications
Overhead Power Line Construction
Fencing Posts for wire cabling
Lifting points
Anchor points
Available in various lengths, ranging from 200mm to 700mm. For exact measurements, take a look at the image below: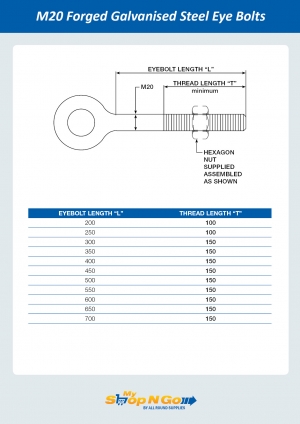 For more info about this product, please contact us.