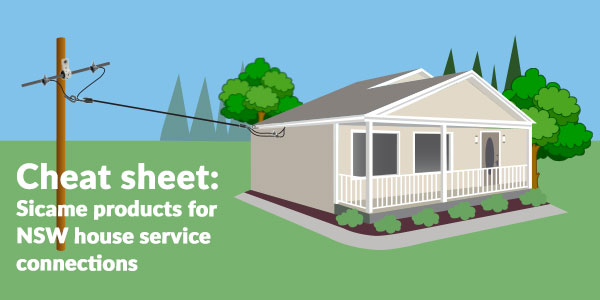 If you're an electrical contractor or Level 2 ASP, installing house service connections is a core part of the job.
You'll know that there are three types of connections found in NSW, across all three utilities. But when it comes down to which products are approved to use on each utility, things can get a little confusing. This is why we create a visual guide to break down exactly which items you need, and how many. Read on to find out more.
Let's start with the three different types of connections found in NSW:
LV ABC mains > 25mm2 to 95mm2 Aluminium XLPE
Bare AL mains > 25mm2 Aluminium XLPE
Bare CU mains > 25mm2 Aluminium XLPE
Any of these connections can be installed on any of the three utilities in NSW: Ausgrid, Endeavour Energy, or Essential Energy.
The good news is that all three power utilities have approved Sicame products for their networks – so you only need products from one manufacturer.
However, each utility uses their own part numbers for these products, which is where it gets confusing.
Our visual guide looks at each type of connection, breaking down exactly which item you need (and how many). We've also included tables which show the product used on each utility, and any discrepancies there might be across the different networks.
This information is supplied as a guide only. Refer to utility network constructions for latest info.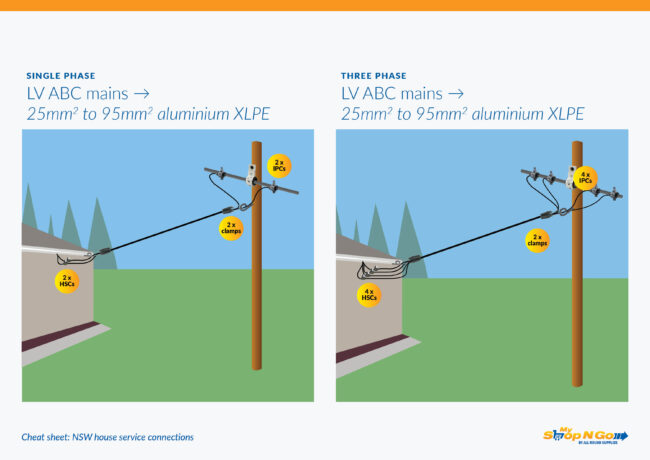 LV ABC mains > 25mm2 to 95mm2 Aluminium XLPE
For this type of connection, you'll need the following items which differ across each utility:
House Service Connectors (HSCs)
Strain clamps
And these items, which are the same regardless of which network you're installing on: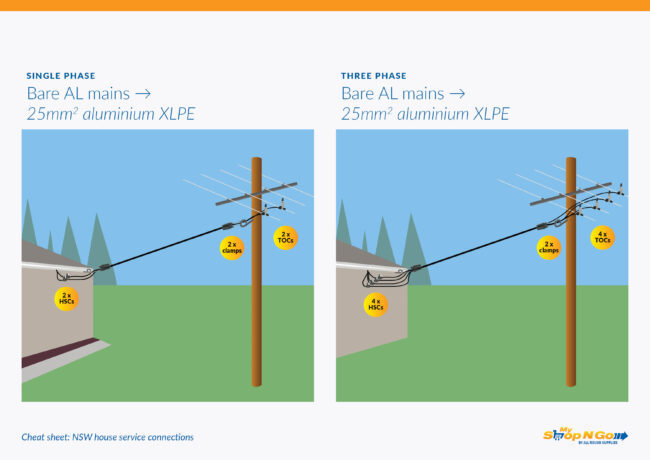 BARE AL mains > 25mm2 to 95mm2 Aluminium XLPE
For a Bare AL mains connection, these items differ across each utility:
House Service Connectors (HSCs)
Strain clamps
Service-to-mains connector (TOC)
And these items, which are the same regardless of which network you're installing on: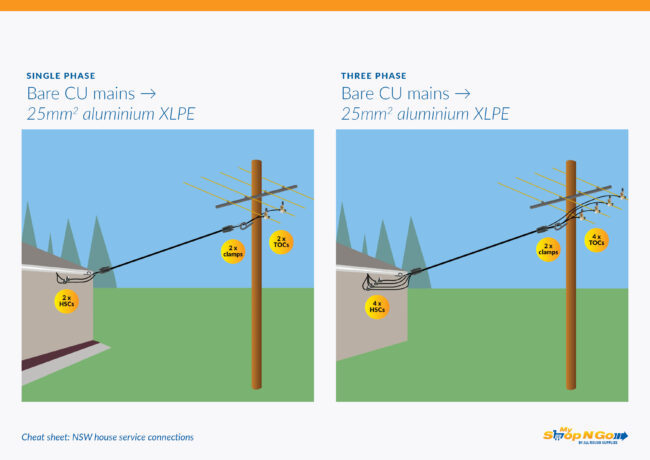 Bare CU mains > 25mm2 to 95mm2 Aluminium XLPE
Finally, the items which differ across utility for Bare CU mains service connections are:
House Service Connectors (HSCs)
Strain clamps
Service-to-mains connector (TOC)
And these items, which are the same regardless of which network you're installing on: