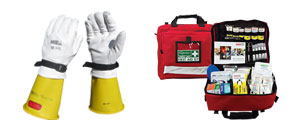 Level 2 ASP equipment is for electrical contractors undertaking underground and/or service work on utility networks. As such, you require a specific range of equipment to undertake the work from the point of supply to the point of attachment and the meter box.
As leading wholesalers of Category 1, Category 2, Category 3 and Category 4 ASP level 2 service work equipment our focus is to bring you the right quality products at the right price.
Electrical tools for accredited service providers should be safe and efficient. This is why we only supply quality tools that are specifically suited for your type of work and that will last the distance.
We created this list with input from our network of utilities and major electrical contractors.
Note that our ASP equipment lists are correct to the best of our knowledge. Please check with the individual utility that you want to be authorised with.
We also have specific equipment lists for the following Level 2 ASP subcategories:
If you have any questions regarding your Class 2A, 2B or 2C ASP tools and equipment requirements, please contact us any time.
Showing 1–50 of 59 results
(click on a product for more details)